Parking Leeds Bradford Airport - Types of Parking
There are some important distinctions to keep in mind when you are searching for LBA Airport parking. Firstly, there is the difference between off-site and on-site parking, which has a sizeable impact on how much you will pay for a week's parking. Off-site parking is a service run by one of the many independent companies that surround the airport and they can be run by national companies, such as Park2Travel, or small family companies, such as Sentinel Parking. On-site or official parking by contrast is owned and operated directly by Leeds Bradford Airport. The official options tend to be more expensive than off-site services, as they are closer to the terminal. However, off-site parking often offers better value for money.
Within the off-site and on-site categories there are further types of services to consider: Park and Ride, Meet and Greet and Park and Walk. Each of these services come with different price tags and which to choose depends on your priorities for your trip. If you are looking for convenience during a short weekend trip, then an on-site Park and Walk service could be your best option. If you are planning a longer stay away of 5 days or more, then the best value for money will be the Leeds Bradford long stay options. These are often the off-site park & ride services or if you book far enough in advance, the on-site long stay car park. Finally, for the least stressful and most convenient Leeds Airport parking service, you need to consider a meet & greet service. While one of the most expensive options, valet parking is a fantastic choice for business travel or simply for a holiday treat!
You have plenty of choices open to you and to see exactly what is available for your travel dates, you can begin a search in the tool at the top of this page! If you would like further information about the different parking services available, then read on further.
Park and Ride Services
Park and Ride services are usually the cheapest available parking near Leeds Bradford Airport and are a popular choice with our customers. Depending on the car park, you will either park your car yourself and keep your keys or drop your car off at reception for a member of staff to park for you. Buses to the airport take less than 5 minutes and either run at regular intervals or on demand. Park & Ride is a great value option for long stay trips of over a week.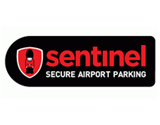 Sentinel
Sentinel Parking has the highest customer rating of any car park we provide at Leeds Bradford at 9.7 out of 10. It is a convenient off-site Park and Ride service with super friendly staff who will ensure that your trip begins and ends smoothly. You will need to drop-off your car and leave your car key before hopping on the on-demand 2-minute shuttle to the airport. While you are away your car will be well protected with Park Mark recognised security features around the compound. Book your space today!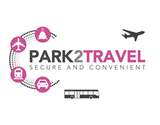 Park2Travel
With Park2Travel's park & ride service you have the choice of parking indoors for a slightly higher rate or outside in a highly secure car park off-site. You will need to drop-off your car in the arrivals area and leave your car key at reception before catching the 2-minute shuttle to the airport. This company has over 30 years' experience at Leeds Bradford and will ensure that your car is secure with round the clock security with a Park Mark security accreditation. Secure your place with Parkhero.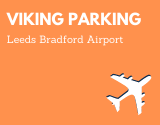 Viking Parking
Reviewed at an average of 9.5 out of 10 by Parkhero customers, Viking Parking is a popular choice. This Park and Ride service is operated directly by the airport and is located just opposite the motorway from main site. You can drop-off your vehicle with your car key and then jump on the regular 3-minute shuttle to the terminal. You will be dropped off right outside and your car will be moved into a secure off-site area of the car park until you return. With Park Mark accreditation, you can be sure your car is in good hands.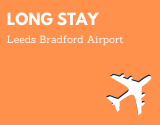 Long Stay
The official Leeds Bradford Long Stay car park is a self-park service located on the airport terrain. You can park your car yourself and keep your car key, unlike with the off-site services, before taking the 2-minute shuttle to the terminal. You can also choose to walk instead between 7 and 10 minutes to the main building. Your car will stay where you parked it with excellent security features accredited by Park Mark plus the additional security of being on the airport terrain. It is not possible to book this service through Parkhero.
Meet and Greet Services
For convenience Meet and Greet parking Leeds Bradford Airport, cannot be beaten. You simply drop your car off near the terminal and it will be parked for you in a secure off-site car park by a professional valet. The convenience of this service makes it one of the most expensive available, but it is great if you have a lot of luggage or a large group to transport. You just drop your car off, unload your luggage and walk to the check-in in 2 minutes. While you are away your car will be parked securely in an off-site car park. When you return, your car will be waiting for you in the same spot.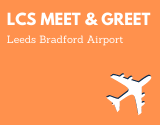 LCS Meet and Greet
With LCS Meet and Greet you can be sure of a stress-free parking experience. Simply drop your car off directly outside the terminal and walk just 2 minutes to the check-in area. You will be greeted at the drop-off point by a professional valet who will check your car over with you for existing damage and then will drive it to the secure off-site LCS car park. While there it will be protected by excellent security including CCTV and patrols. All staff are professionally trained and fully insured. It is not possible to book this service via Parkhero.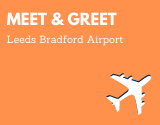 Official Meet and Greet
With the official Meet and Greet service you can drop-off your car a short walk from the terminal and pick it up even closer just outside Arrivals. There is excellent security provided for your vehicle while you are away and before you drop-off your car you will need to go through the camera booth that ensures there is a record of any existing damage. This is an easy and convenient choice for parking at Leeds Bradford. Unfortunately, it is not possible to book this service on Parkhero.
Park and Walk Services
Another convenient but often pricey choice is one of the Park and Walk options. For parking at Leeds Bradford Airport you cannot get much closer, as these car parks are within less than 5 minutes walking distance of the airport. They are also operated by the airport itself and have the extra security of being on the airport terrain. Such convenience often makes these the most expensive Leeds Bradford parking options.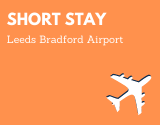 Short Stay
For the ultimate convenience for your short break or business trip, consider the official on-site Short Stay car park Leeds Bradford Airport. Short Stay parking is located right opposite the main airport terminal and is just a short walk away. It is a self-park service with a number plate recognition system, allowing you to simply drive up the barrier, take a ticket and park up in a space of your choice. You can keep your keys with you and walk in just minutes to the terminal entrance.
It costs £38.00 for between 4 and 24 hours and £70.00 for 2 days parking and you can simply turn up on the day. To guarantee yourself a space and avoid stress, you can also make a reservation online ahead of time. You will have no security concerns with Leeds Bradford Short Stay parking either, as it is right opposite the main building with Park Mark security accreditation. It is not possible to book this car park through Parkhero.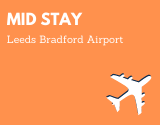 Mid Stay
If you plan to park at Leeds Bradford for a few days but less than a week then the Mid Stay car park is a great option. It is located next to the airport Travelodge and is just a 2 to 3 minute walk from the main terminal entrance. The car park operates a self-park system and has a number plate recognition system allowing you easy access at all times. You simply need to approach the barrier and it will let you in to choose your own parking space. Keep your key with you, unload your luggage and take the short walk to the check-in area in the terminal. You can rest assured that your car will be safe while you are away with extensive Park Mark approved security features.
Leeds Bradford Mid Stay parking is slightly cheaper than Short Stay parking at £37.00 for up to 1 day, £64.00 for 2 days parking and £27.00 for each extra day. You can turn up on the day without a booking but it is best to guarantee yourself a space by booking ahead online. Unfortunately, you cannot book this service via Parkhero.
Airport Facts
Leeds Bradford Airport, often known as Yorkshire's airport, is the busiest airport in the region and opened in 1931 as Yeadon Aerodrome. It is still commonly referred to as Yeadon Airport by locals today. The airport is the 15th busiest airport in the UK, with almost 3.5 million passengers passing through the terminal every year.
It is a base for Jet2.com and Ryanair with a fantastic array of budget flights to destinations across Europe, including Amsterdam, Crete, Corfu, Bratislava, Ibiza, Majorca, Rome and Warsaw. Other airlines that serve Leeds Bradford include Aer Lingus, Aurigny, Balkan Holidays, KLM, TUI, Inghams, Enter Air and Eastern Airways.
Leeds Bradford Airport Parking Made Simple
Finding great value parking at Leeds Bradford that does not break the bank and that is stress-free is simple when you book through Parkhero. We will help you find the best value with our intuitive comparison tool and provide you with all the information you need to make your choice. Our product pages will show you exactly what to expect from a parking service from your arrival to your departure, including the distance to the airport, the security features in place and customer reviews.
When you book in advance with Parkhero, you can save up to 60% compared to booking on the day and guarantee yourself a spot on the day. We do not require you to create an account, meaning you can complete your booking in less than 10 minutes. Plus we do not charge you a booking fee!
Begin your search today at the top of the page and save yourself money and time with Parkhero.
Want to know more?
If you would like to discover the Top 5 cheapest parking options at LBA Airport, click here.
For more information about Leeds Bradford prices for parking, click here.
To find more information about our Terms and Conditions, click here.