Types of car parking Newcastle Airport
Newcastle parking airport options are split into three categories. We have listed these below for you to browse at your convenience. Underneath that, you can find the best providers for each category.
Park & Ride
These options are a great budget-friendly choice for those looking to park near the airport for a competitive price. The premise is simple too. You park up at the designated parking spot and then catch a shuttle to the airport.
Simple and well-priced.
Park & Stroll
This is a great choice for those looking for convenience. If you want to be as close to the airport as possible, then this is the choice for you. You can park right next to the terminal and then walk over with your luggage at your leisure. Best of all, your vehicle will be right where you left it upon your return, saving you the stress of having to wait for a shuttle or valet.
Ultimate convenience.
Meet & Greet
These valet options are fantastic for those that are in a rush or don't want to go through the hassle of finding a car park. You simply drive up to the airport terminal and meet a chauffeur there. You get out and take your luggage to the check-in. In the meantime, the chauffeur will take your car to the designated car park and park it for you.
Quick and easy.
Park & Ride Operator Spotlight
Here we are putting a spotlight on what we consider one of the best options for Park & Ride operators at Newcastle airport.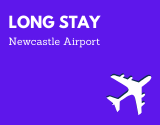 This official car park is one of the best options when it comes to Park & Ride operators at Newcastle.
Found just a short distance from the terminal, the shuttle bus will have you at the terminal in just 3 minutes. This shuttle bus runs every 5-10 minutes 24 hours a day, making it a reliable resource for those parking here.
That being said, the terminal is also within walking distance of the car park, meaning you can forego any need to take the shuttle bus as well.
Security is a high priority at this car park. 24 hour monitoring, CCTV and an electronic number plate recognition system ensures that your vehicle is well-protected while you travel. In addition, the fact that you get to hold onto your own keys will give you extra peace of mind.
A strong rating of over 8.5/10 should convince you to book with this provider if nothing else so far has!
Park & Stroll Spotlight
Here we have another spotlight focusing on one of the better options for Park & Stroll operators involved in airport parking Newcastle.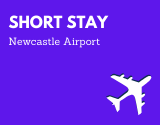 One of the best rated car parks on all of Parkhero with a 9.5/10, this official provider is an excellent choice for all sorts of travellers.
One of the rare cases where a Park & Stroll provider is not charging exorbitant prices, this operator has all the advantages of being close to the airport, with very few drawbacks.
This car park is highly secure. It features a Park Mark award given by the police for safe and secure parking. It has this award thanks to the floodlighting, fencing, CCTV and 24 hour monitoring of the car park.
Being open 24/7 and allowing you to keep your keys means that you can rest a little easier knowing your vehicle will not be moved. Moreover, it means you will be able to get back on the road home as soon as you return from your travels.
Last but not least, this car park is within spitting distance of the terminal, meaning you should be able to walk there in less than a minute.
When it comes to a stress-free experience, you will struggle to find a better option at any airport in the entire UK let alone Newcastle Airport.
Meet & Greet Spotlight
Here we have a spotlight on a well-known Meet & Greet operator at Newcastle Airport.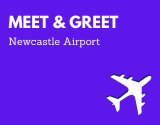 The official Meet & Greet provider of Newcastle Airport parking, this operator has excellent ratings, as well as a great array of services on offer. It is a great option for those with a lot of luggage, or looking for a quick, simple solution to their parking needs.
Sporting a Park Mark award for its high levels of security, the car park where your vehicle will be kept has secure fencing, CCTV and 24 hour security.
The process is simple as well. Just park up at the Fast Track car park and a chauffeur will be waiting for you. After a quick inspection of your vehicle, the chauffeur will whisk your car away to the car park, while you saunter over to the check-in. On your return, your vehicle will be waiting for you in the same place.