Types of Heathrow Airport Parking
When it comes to the parking Heathrow has to offer, there is a wide variety of choice. However, the car parks can be broadly split into three main categories. These are as follows:
Park & Ride
Often found further from the terminals than your conventional car parks, these car parks provide the best prices. There are regular shuttles that will bring you to your desired terminal in a timely manner. The way these services work is quite simple as well.
On arrival you drive to the car park and drop off your car. Then you take the shuttle bus to the airport.
Upon your return, you contact the car park after landing and a shuttle bus will pick you up and bring you back to your car.
Simple and well-priced.
Meet & Greet
These services provide exquisite luxury and convenience. This is the choice for those in a rush or those looking to have a smooth hassle-free experience when it comes to their parking experience. The way it works is as follows.
You arrive at the terminal at the agreed upon time, where a uniformed member of the organization will meet you and take your car to the car park. You can then head directly to your check in.
Ultimate convenience and minimal hassle.
Park & Stroll
Just a short walk to the terminal awaits you when you choose these providers. The easiest to use and with the least hassle possible, however these providers tend to be quite expensive.
Easy but costly.
Meet & Greet Services
Below we have chosen our favourite Meet & Greet service for you, with a bit of information about what this provider can offer you.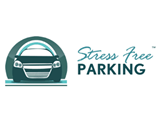 Servicing all four operational terminals at Heathrow, this operator proves itself an exceptional choice for those looking to use a Meet & Greet service.
Open 24/7 and taking only 5 minutes of your time means that this provider lives up to its name, and keeps your experience stress-free.
Stress Free Parking is also highly secure, featuring CCTV, regular patrols and fully trained and insured drivers and personnel. To top it all off, the car park has been awarded the police accredited Park Mark security award. This means you needn't worry about your vehicle while you are travelling.
For those looking to travel from Terminal 4, you will need to call the operator beforehand to ensure that the driver can meet you at the pick-up point in the Short Stay car park. Those who have chosen Terminal 2, Terminal 3 or Heathrow Terminal 5 parking do not need to call ahead. The drop-off/pick up points can still be found in the Short Stay car parks for each terminal.
Park & Ride Providers
Here we have listed the official Park & Ride providers that operate out of Heathrow Airport for your convenience.
Official Long Stay Heathrow
The official long stay car parks at Heathrow is highly secure with CCTV and security patrols. They also provide shuttle busses that can be caught to the airport. The shuttle times to each terminal are as follows:
| | |
| --- | --- |
| Terminal 2 | 10 minutes |
| Terminal 3 | 18 minutes |
| Terminal 4 | 5 minutes |
| Terminal 5 | 7 minutes |
The long stay car park uses number plate recognition technology at the barrier. A ticket will be printed with your details and once the barrier opens you can proceed to your allocated spot. In case of difficulties, just press the intercom button for assistance.
On your return, you can catch a shuttle bus from Bus Stop 21 between the hours of 04:00 and 23:30. Outside those hours, you will need to call and request a transfer on 020 8745 6261.
Being an official airport car park, the price of the long stay can be quite steep. As such, we recommend booking another provider through our platform for a more competitive price. For more information about long stay parking, we suggest checking out our blog about long stay parking at Heathrow.
About Heathrow Airport
London Heathrow Airport (LHR) is the busiest airport in Europe and the second-busiest airport in the world for international passenger traffic. Its convenient location close to central London and its array of destinations and airlines make it a major international transport hub.
The airport is the main base for British Airways and Virgin Atlantic, as well as serving 81 domestic and international different airlines. It continues to grow with more than 75 million passengers passing through every year and plans to expand the airport further with a third runway.
Pre-pandemic Heathrow facilitated an average of 1293 flights a day to around 200 different destinations. This means that over 200,000 people passed through every day, creating high demand for Heathrow Airport parking.
London Heathrow Terminals
With so many people and flights to destinations across the globe, Heathrow has 4 large terminals to accommodate demand. All terminals are linked by the free Inter-Terminal Transfer service and it is quick and simple to travel between them.
The airport traffic is split per terminal:
Terminal 2
Heathrow Terminal 2 is a base for mostly European flights with some long-haul destinations. It is served by Aer Lingus, Air China, Brussels Airlines, Eurowings, Lufthansa, TAP Portugal, and United Airlines amongst others.
Terminal 3
At Terminal 3 Heathrow you will find long-haul flights to North America, South America and Asia with airlines including American Airlines, Cathay Pacific, Delta Airlines, Japan Airlines, Qantas and Virgin Atlantic amongst others.
Terminal 4
Terminal 4 at Heathrow serves both long-haul flights across the globe and European flights from major airlines including Aeroflot, Air France, Alitalia, KLM, Qatar Airways and Royal Air Maroc amongst others.
Terminal 5
Heathrow Terminal 5 is used exclusively by British Airways and Iberia with both long-haul flights and short-haul European destinations.
Heathrow Parking Made Simple
Choosing the best London Heathrow parking option for your trip can be difficult, but with Parkhero your decision can be made so much easier. With our experience in the field since 2013 we know how to find you great value parking around Heathrow and can show you all your options clearly on one page. No need to trawl multiple websites and you can book directly from Parkhero in just 5 minutes. Unlike many other websites, Parkhero does not charge you a reservation fee, so you can enjoy great parking with no added costs.
By using our website and booking in advance, you can easily save up to 60% on parking for your trip. Whether you are looking for short term or long-term parking, uncovered or indoor, on-site or off-site parking Parkhero can help you find the best prices for Heathrow Airport car parks.