Parking Southend Airport – Types of Parking
You will find a great range of parking available at London Southend with something suitable for every budget.
There are two categories of parking at London Southend Airport. There are the official services provided by the airport itself and the off-site options which are run by external providers near the airport. The main difference between the two options is the price, with the official service usually being more expensive as it will typically be closer to the airport and more convenient.
Within these two categories there are then three main types of parking Southend Airport to choose from: Park and Ride, Meet and Greet and Park and Walk. Depending on how you're travelling and your specific needs, some options will be better suited for you than others.
Below we will explore the parking options in more detail.
Park and Ride Services
Park and Ride airport parking Southend is a great option if you're looking for the best value, particularly if you plan on using the car park for a longer trip. These services are the cheapest available at the airport.
Typically, you'll park the car up yourself and keep the keys before catching a free shuttle bus to the airport. Some services will park your car for you after you drop it off outside the reception area.
Park and Ride SEN Airport parking is a great option if you're looking to save costs on your trip.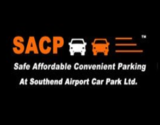 SACP Park and Ride
SACP Park and Ride are the only providers currently offering shuttle parking near Southend Airport. The car park is just 5 minutes transfer away from the airport, with shuttle buses running on demand so you don't have to wait. Your car will be parked for you and staff will be on hand to help with any luggage. Once you return from your trip, another bus will take you back to the car park.
Meet and Greet Services
For the most convenient way to park at Southend Airport consider the use of a Meet and Greet service.
With a Meet and Greet service you simply drop your car off with the professionally trained valets and they'll park it for you whilst you make the short walk to the airport to catch your flight. Valet's are insured to drive your vehicle and it will be kept safe at a secure off-site car park.
It's a great way to take the stress out of your trip and is ideal if you're travelling in a big group or with lots of luggage.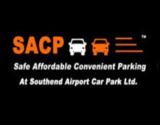 SACP Meet and Greet
The SACP Meet and Greet service offers an excellent quality Southend Airport car parking experience. You can drop your car off right outside the airport and walk just a few minutes to the check-in desks. Allow the fully trained and insured staff park your car for you. Your car will be stored in a secure car park with CCTV and a police-approved Park Mark award.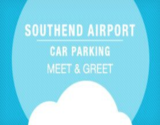 Southend Airport Meet and Greet
This is one of the highest rated parking services on Parkhero at 9.8/10 from our customers. The friendly and professional staff at Southend Airport Meet and Greet will take good care of you and your vehicle outside the airport, allowing you to leave on your holiday efficiently and reassured. While you walk just a few minutes to the airport, your car will be parked securely for you at the off-site car park. Here it will be kept safe with 24 surveillance including CCTV and regular patrols.
Park and walk Services
Park and Walk parking is a convenient parking method for those short weekend breaks.
These car parks are located just a short walk from the airport and are run directly by the airport itself. In most cases they are self-park services where you can find a space yourself and keep your keys while you are away.
The extra convenience of these services often makes them the most expensive parking options at London Southend Airport.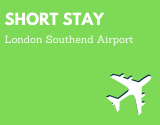 Short Stay
The Short Stay car park is located right outside the terminal and is a great choice if you are only going away for a few days. It is the most convenient of all the parking options at Southend Airport and as such is also often the most expensive option. Here you can park your car yourself and keep the keys before walking just a few steps to the terminal entrance.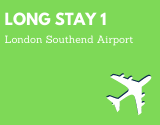 Long Stay 1
The Long Stay car park at London Southend is located just opposite the terminal. It will take less than 5 minutes to walk to the check-in desks. This is a self-park service where you will need to enter using the number plate recognition barriers to enter and exit. You can choose your own space and keep your keys while you are away.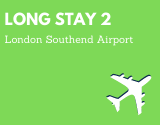 Long Stay 2
Long Stay 2 is slightly further away than the above car park and is usually a bit cheaper. It offers the same self-parking service.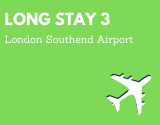 Long Stay 3
Long Stay 3 is the best value option of the Park and Walk services at London Southend Airport. It is the furthest away from the terminal entrance but is still within easy walking distance. Again it is a self-park service.
About London Southend Airport
London Southend Airport (SEN) is located in the county of Essex, around 36 miles away from the centre of the city of London. The airport sees over one million passengers pass through its gates each year, with airlines such as EasyJet and Ryanair offering flights across Europe. Although there are other, much larger airports around the city of London, Southend Airport has seen recent increases in the number of passengers. The increase in popularity of Southend is in part due to the airport being voted as the UK's best for 6 consecutive years between 2013 and 2019.
The airport is easily accessible, both from London itself and the surrounding areas of Essex. You can travel to the airport by bus, train or car depending on your preference, there are great transport links available. For those choosing to travel by car, you can access the airport from Junction 29 on the M25. If you're travelling from central London you can take the A12 or A13 and follow the signs for Southend Airport.
Why book parking with Parkhero?
The growing number of passengers at Southend Airport means that it can sometimes be a challenge to find parking, let alone good value parking.
Luckily Parkhero is here to help. You can save yourself a lot of the hassle of searching for affordable car parking by using our intuitive comparison tool. Simply enter the dates you travel and Parkhero will instantly show you the best available options.
We will show you all the information you need to make an informed decision and in less than 5 minutes you can complete your booking. There is no need to make an account with us and there are no booking fees.
Book your parking at London Southend today and save yourself both time and money.