Condensed Car Park Information
We know that when you're looking to compare Manchester Airport parking, cost, convenience, and location are what matters most. Customers who book with Parkhero choose our platform to help them find a trustworthy, efficient and affordable car park, to park their car in whilst they're away. It's our mission to help you compare and save on your parking, so you can make your reservation quickly and securely.
Types of Airport Parking Manchester
There are well over thirty different car parks at or around Manchester Airport, which can be divided into two main categories - on-site and off-site. On-site car parks are located with the airport's grounds, and are fully owned and operated by Manchester Airport itself. Off-site car parks on the other hand, are located just outside of the airport zone, and are managed by independent businesses. Some are run by large chains, while others are small family run companies. What they all have in common however, is that they provide fast, free shuttle transfers to all terminals, including Terminal 1, Terminal 2, and Terminal 3.
On- and off-site car parks can be further subdivided by their service type - either park & walk, park & ride, or meet & greet. These categories define the type of service on offer, and how you'll get to your terminal. If you're after short term parking, whether for a few hours or a couple of days, being able to walk directly to the terminal is ideal. If you're heading away for longer, you may want to consider parking further away to access the best rates on long stay parking at Manchester Airport. And for a business trip or the holiday of a lifetime, you could splurge a little and have a professional chauffeur park your car for you - no queues, no hassle, no stress!
Whatever Manchester Airport parking service you're looking for, you're sure to find it on Parkhero. To get started, enter your travel dates into the search bar above, to receive a free quote. You can filter all of the available options by location, service type, and customer rating, in order to find your ideal space.
Park and Ride Services
Typically the most popular type of parking at Manchester Airport, park & ride services offer the benefits of a guaranteed space at a low rate, plus transfers to/from the terminal. All you need to do is drive to the car park, check-in your vehicle, then take the next available shuttle bus onwards to your terminal. On your return to Manchester Airport, you can give the car park a quick call, to ask them to send a driver to collect you, to take you back to the parking lot.
Manchester Airport's JetParks branded car parks work in this fashion, which is why the rates charged at JetParks T1, JetParks T2, JetParks T3, and JetParks Ringway tend to lower than at their on-site counterparts. Independent and cheaper alternatives to JetParks include Toad Parking, NCP Manchester Flightpath, and Hunters Airport Parking. These car parks offer a great alternative to leaving your car at one of the MAN on-airport parking facilities, complete with free transfers and friendly customer service at a fantastic price.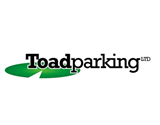 Toad Airport Parking
If you're looking for the most affordable car parking Manchester Airport, don't skip past Toad Airport parking. Don't let the name fool you, Toad Parking offers some of the most professional and friendly service you can find, with convenient 24/7 opening hours, and free shuttle transfers. The family owned and operated business has been based in Manchester for more than twenty years, providing low priced outdoor and indoor parking. Secure your space now via Parkhero.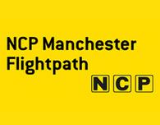 NCP Manchester Flightpath
Formerly trading under the Peter Ashley moniker, NCP Manchester Flightpath is a secure, budget car park, located only five minutes away from the airport. NCP Manchester offers affordable rates on long term parking, with free transfers to all terminals. The car park is protected by a range of advanced security features, including CCTV, high fences, entry and exit barriers, plus regular patrols. Enjoy complete peace of mind when you book with NCP Manchester Flightpath.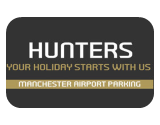 Hunters Airport Parking
Open 24 hours a day, 7 days a week, you can trust Hunters Airport Parking to get you to your terminal on time, no matter how early or how your flight. The car park always has someone on site, plus 24/7 security, so you can access your vehicle when you need to. You can take advantage of Hunter's low rates, free transfers to all terminals, and friendly service. Park Mark accredited, the car park is suitable for business and leisure travellers alike, and spaces can be pre-booked via Parkhero.
Meet and Greet Services
A little more expensive than park and ride services, but a lot more convenient, meet and greet parking has become increasingly more popular in recent years, especially with passengers carrying a lot of luggage or those with young children. If you don't want to wait for a shuttle bus and would rather drive straight to your terminal, meet and greet parking offers an unrivalled level of accessibility and ease. All you need to do is drive to an agreed drop off point outside of your terminal, and hand your car keys to a professional, insured driver. The driver will transfer your car to a secure car park, either on- or off-site depending on your choice of provider, while you stroll to check-in.
There are drop off points outside of all three terminals at Manchester Airport, as well as airport owned and managed meet & greet services. For official meet & greet airport parking Manchester, you can't go wrong with the T1 Meet & Greet, the T2 Meet & Greet, or the T3 Meet & Greet. But if you're looking to save a little money, we recommend comparing the meet and greet services offered by the nearby off-site providers such as VIP Meet & Greet Parking, ParkFly, and Vacation Care. They operate along similar lines, however your car will be safely stored off-site, meaning that you'll pay less for your parking.
VIP Meet & Greet
A favourite of business and corporate travellers, VIP Meet & Greet will ensure that your next trip away starts without a hitch. You will be met by a professional valet driver in the company's distinctive orange and black uniform, who will park your car on your behalf in the car park's secure facility. On your return, your car will be ready and waiting for you where you dropped it off. Nothing could be easier than secure, stress-free car parking Manchester Airport with VIP Meet & Greet. Book your space now!
ParkFly
Enjoy a hassle free start to your trip with ParkFly. With competitive prices and professional service, ParkFly will save you the stress of finding a Manchester Airport parking space as the hours to your flight departure time count down. Why circle around an expensive on-site parking lot, looking for a space, when a trained chauffeur can do it for you? You'll be at your gate in no time at all with ParkFly, regardless of your flight time or terminal. ParkFly are open 24/7, service all terminals, and can be booked via Parkhero.
Vacation Care
For low prices on meet & greet parking for all terminals, pre-book your space with Vacation Care at Manchester Airport. A highly rated, premium car park, Vacation Care offers travellers convenient 24/7 opening hours, highly secure, CCTV monitored parking, plus the expertise of their team of fully trained, insured, and uniformed chauffeurs. Arrive at the airport in style with Vacation Care, and simply walk to Departures. Why struggle with heavy bags and small tots in toe, when you can be at your check-in desk in less than two minutes?
Park and Walk Services
For the occasions where you just want to park your own car close to the terminal, keep hold of your own keys, and walk to Departures, palk and walk services have you covered. As the name suggests, all you need to do is park your car in an available space and then walk to check-in. This level of convenience doesn't come without a cost, however Manchester Airport has a range of different services on offer, to suit most needs and budgets. Popular options include the T1 Multi Storey, the T2 Multi Storey, and the T3 Multi Storey car parks, which are safe, secure, and primarily undercover.
If you're heading to the airport to pick up a passenger, or to drop off friends and family at any of the terminals, you can either make use of the Multi Storey car parks, or take a look at our blog for more information about the free drop off area.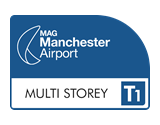 T1 Multi Storey Car Park
Open 24 hours a day, 7 days a week, this official Manchester Airport car park is located within close walking distance of Terminal 1. After pre-booking your space online, you can select your own parking space, park your own car, and then keep hold of your keys. No transfer required! Spaces sell fast at the T1 Multi Storey Car Park, due to its ideal location and affordability. We advise booking your space as soon as you've booked your flight tickets.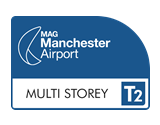 T2 Multi Storey Car Park
If you're flying from Terminal 2 on a weekend break or business trip, the T2 Multi Storey Car Park is an ideal choice for conviennent short term parking. The car park is open 24/7, Park Mark accredited, and protected by entry/exit barriers, monitored CCTV, and security patrols. You'll also benefit from the added security of parking on airport grounds, and the knowledge that your car will be safe and secure, right where you left it.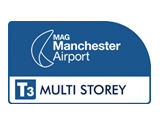 T3 Multi Storey Car Park
Within easy walking distance of Terminal 3, the T3 Multi Storey Car Park offers affordable rates on short and long term parking, with plenty of advanced security measures in place to keep your pride and joy safe and secure. The car park is open 24 hours a day, 7 days a week, to meet all flights from first to last. If you're leaving early or arriving late, the T3 Multi Storey Car Park is ideal - you'll be able to drop off and collect your car quickly, making your journey home that little bit easier and less stressful.
About Manchester Airport
Manchester Airport (MAN) is an international airport located in Ringway, Manchester, which serves over 28 million passengers every year. The third busiest airport in the UK in terms of passenger numbers, Manchester Airport has flights to 199 different destinations and 61 aircraft movements per hour. The airport comprises three passenger terminals, Terminal 1, Terminal 2, and Terminal 3, as well as a VIP and a cargo terminal. Terminals 1 and 2 are linked to one another by the skylink, a covered walkway with travelators to aid passengers with the 10–15-minute walk. Terminal 3 is linked directly to Terminal 1, and with a second skylink, which is again connected to the airport railway station and the Radisson Blu Hotel.
Terminal 1 is the largest in the airport, with flights to European and other worldwide destinations, via Aer Lingus, Air Transat, Brussels Airlines, easyJet, Emirates, Etihad Airways, Icelandair, Lufthansa, Scandinavian Airlines, Swiss International Air Lines, TAP Air Portugal, and Turkish Airlines.
Terminal 2 is used by a variety of airlines, for both charter and scheduled flights to European and worldwide destinations. It is currently closed for refurbishment, and expected to reopen sometime in 2022.
Terminal 3 is home to a selection of budget airlines, including Ryanair and Jet2, plus international carriers such as American Airlines, Cathay Pacific, Delta Airlines, Emirates, Finnair, Hainan Airlines, Iberia Express, KLM, Oman Air, and Qatar Airways.
The airport is currently undergoing a major expansion programme, which is set to double the size of Terminal 2. The £1 billion expansion project is set to be completed in 2024, with further developments underway in terms of the proposed High Speed 2 station, Manchester Interchange, which is earmarked for opening in 2033.
Manchester Airport Parking Made Easy
Avoid the stress of leaving your airport parking at Manchester until last minute. When you pre-book your space using Parkhero, you not only save money, but the hassle that comes with trying to find an empty spot when you're in a rush, or from paying too much to be right next to the terminal. Whatever your budget and your parking needs, Parkhero can help. Our online platform makes it easy to search, compare, and book parking near Manchester Airport, by filtering various car parks by price, location, service type, and rating.
Reap the rewards of planning ahead, by saving up to 60% on the price of parking by booking in advance. Just like booking your flight tickets, the earlier you secure your parking, the more you'll save. Booking online and in advance is the best way to secure low cost Manchester Airport car parking. Whether you're after short term or long term parking, uncovered or indoor, on-site or off-site - you'll find it all on Parkhero.
Coronavirus Precautions
Due to the recent certainly surrounding international travel, you may not be sure how your airport parking has been impacted by the recent Coronavirus prevention methods. In terms of making a booking, if a car park is shown as available when you search for Manchester Airport parking on Parkhero, then it is operating as normal. All car parks have hygiene policies and social distancing measures in place, and you will be asked to observe these to ensure the safety of staff and of customers. Shuttle buses for park & ride services may be running at reduced capacity at some facilities, and you may be required to wear a face mask while onboard. If in doubt, please reach out to our customer service team with your questions.
If you need to amend or cancel your booking due to COVID-19, please visit our dedicated FAQ page to find out more about our terms and conditions.
Find Out More