Compare your Leeds Airport Meet and Greet Options
If you want to save money on Meet and Greet parking, you need to ensure that you book online in advance. The further in advance you book, the better chance you have of saving up to 60%, compared to the prices you can expect when purchasing parking on the day. With Parkhero that is simple as our comparison tool allows you to see all the available options up to 6 months in advance.
There are three options for Meet and Greet Leeds Bradford from two different providers, there's the official service provided by the airport itself and also a service which stores your car offsite. The offsite provider offers a flex or non-flex service meaning you can choose to pay a bit more if you want to be more flexible about your pick up and drop off dates when booking.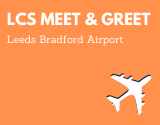 LCS Meet and Greet
LCS Meet and Greet Parking will pick your car up just outside the terminal and park it in a secure car park offsite. You simply need to meet the professional, uniformed chauffeur in the 'Pick-up and Collection' point outside the main terminal building, check your car over for existing damage with the chauffeur, unload your luggage and walk the short distance to the check-in area. Meanwhile your car will be parked securely in a Park Mark accredited off-site car park. When you return your car will be waiting where you left it. Easily save up to 45 minutes on your journey compared to taking a Park and Ride service. Please note that Parkhero does not sell this service.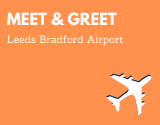 Meet and Greet Official
Leeds Bradford Airport Meet and Greet allows you to drop your car off just a 2-minute walk from the terminal. On arrival you will need to drive your car through a camera booth that will make a record of any existing damage and you can then unload your luggage and make your way to the airport. Professional staff will then park your car onsite and have it ready for your return. The car park is fully security protected with a Park Mark accreditation and offers the additional security of being on-site. The pick-up point is right outside the main airport entrance, giving you an even shorter walk and quicker exit from the airport. Please note that Parkhero does not sell this service.
How do Leeds Bradford Meet and Greet services work?
Meet and Greet Leeds Bradford Airport gives you a worry-free way to park your car before catching your flight. There's no need to spend ages looking for a parking space far away from the terminal, you can simply drop your car off with the staff outside the terminal. From here, the valet team will look after your car and ensure its safely parked. All that's left for you to do is make the short walk to catch your flight, safe in knowledge that your car will be waiting for you when you return! Meet and Greet is perfect for those who have a busy schedule, are carrying lots of luggage, or if you just want to remove the unnecessary stress from your trip!
Why choose a Meet and Greet Service at Leeds Bradford?
If you want convenience from your parking, then you will not find much better than Leeds Bradford Airport parking Meet and Greet. It is one of the simplest parking services, you can just drop your car off outside the airport and pick it up in the same spot when you return. However, there are some downsides, most notably the cost compared to other parking services, such as Park and Ride services which are consistently cheaper.
Pros
Short 2-minute walk or less to the terminal
Car parked securely for you
No waiting around for a bus
Cons
Often most expensive parking option
Not all insurances cover someone else driving your car
Booking with Parkhero
If you are looking for Meet and Greet parking Leeds Bradford, Parkhero can make it quick, cheap and easy for you. With our simple comparison tool, you simply need to enter your travel dates and in seconds you will be presented with all the available options ranked from the cheapest to the most expensive. You can make a booking directly from the results page or find out more about each service on the dedicated product page.
With Parkhero you can find, compare and book Meet and Greet Leeds Bradford services in less than 10 minutes. Plus, we do not charge a booking fee, helping you to save even further for those fun things during your trip. Parkhero can also help you find alternative types of parking, such as Park and Ride, if you decide Meet and Greet is not the service for you.
Book with Parkhero today and let us help you make the most of your trip!