Parking Dublin Airport - Types of Parking
There are plenty of parking options to choose from at Dublin Airport, whether you are looking for budget services or convenience.
There are two main categories of parking at Dublin International Airport – official and off-site. The official services are operated by the airport itself, often offering services on the airport terrain within walking distance of the terminal entrance. Off-site services are owned by private companies and are located near the airport. They tend to offer better value for money compared to official options. While off-site car parks offer airport parking Dublin that is a bit less convenient, they more than make up for it with it with their comparably low prices!
You will find two types of parking at Dublin Airport - Park and Ride and Park and Walk. Both of these services are located close to the airport and offer you a convenient start to your trip.
Park and Ride Services
Park and Ride services are the best value parking options at Dublin Airport, especially if you are looking for long stay parking. They allow you to enjoy parking near Dublin Airport without having to pay through the nose.
Depending on the company you either park your car and keep the keys or park at a drop-off point, hand over your keys and allow a valet to park it securely for you. Buses take between 5 and 10 minutes to reach the airport from the car park with then running frequently throughout the day.
You can find out more information about Dublin Airport Park and Ride services on our dedicated page.
Off-site Park and Ride Options
The Clayton Hotel Dublin Airport is just an 8-minute shuttle ride to the airport with shuttles leaving regularly. Customers can use the reception facilities of the hotel and cars are parked in the underground car park. This offers you great security for your vehicle while you are away and protects both you and your car from the elements. There is CCTV, entry and exit barriers and 24/7 surveillance of the car park.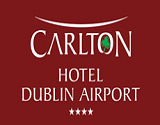 Carlton Hotel
The four-star Carlton Hotel Dublin Airport is located just a 3-minute drive form the airport. When you park here, you can enjoy a premier service without having to book a night's stay with buses running to the airport every 30 minutes. The service is available around the clock and there are excellent security features in place, including CCTV, entry and exit barriers and 24/7 surveillance.
Official Park and Ride Options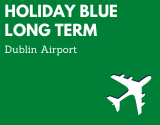 Holiday Blue Long Term
The Holiday Blue Long term car park is located just off the M50. It is a self-park service with shuttles taking 10 minutes to reach the airport. The car park is in operation 24/7 and has great security in place, which includes regular patrols by security staff and excellent CCTV coverage.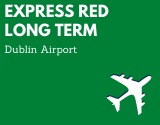 Express Red Long Term
The Express Red Long term car park is much closer to the terminal and takes only 5 minutes by shuttle to the airport. The car park has recently been renovated with increased security and improved parking surfaces to ensure your car is well looked after while you are away. This is also a self-park service where you find your own space and keep your keys.
Park and Walk Services
Park and Walk DUB Airport parking services are provided by the airport itself.
They are very convenient as you can park up, grab your luggage and walk the short distance to the terminal in just a few minutes. The only downside is the cost as these services are often have the some of the highest prices for parking at Dublin Airport.
Park and Walk services are good value for short term parking, but if you plan to stay longer a Park and Ride option is your best choice.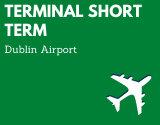 Terminal Short Term
The Terminal Short Term car park can be found just outside each Dublin Airport terminal. This is a self-park service with an automated number recognition system at the entrance and exit. Simply drive in find a space, unload your vehicle and keep your keys with you as you make your way to the airport. You can be in the terminal in 2 to 4 minutes on foot with your luggage. As it is so close the airport, you have no need to worry about the security of your vehicle and there are comprehensive security features in place.
About Dublin Airport
Dublin International Airport is the busiest airport in Ireland with over 28 million passengers a year. Some of the most popular destinations are in the UK, but the airport serves 180 different locations across the world. In 2016 DUB Airport was voted the third best airport in Europe for customer service and ranked as the 10th best airport in the world.
As driving to the airport is so easy, there is a great choice of Dublin Airport parking available. The airport is just 6.2 miles from the city centre and is accessible via the M1 motorway and M50 orbital toll road.
Why book parking with Parkhero?
Parkhero is well placed to help you make the most of airport parking at Dublin Airport.
Since 2013 we have been building relationships with parking service providers to ensure that we can help customers find and book the best parking deals via our comparison website.
Booking with Parkhero is simple, quick and unlike many platforms we do not charge you a booking fee. There is no need to make an account and you can book your Dublin Airport car parking in just 2 minutes!
Compare your parking options at Dublin Airport with Parkhero and save time and money on your trip with our intuitive comparison tool.