Compare your Gatwick Park and Ride Options
There are plenty of different Park and Ride services to choose from at London Gatwick and in most cases they are the best value options for parking at the airport. Although Meet and Greet services at Gatwick can offer greater convenience, this always comes at a higher cost. For the sake of a 5 to 15-minute transfer, it is more than worth choosing a Park and Ride service, as you can save up to £30 on a week's parking (March 2021)!
As you will see below, Park and Ride services are also great value for Long Stay parking at Gatwick offering some of the lowest prices for a 15 day (2 week) stay.
| Parking Service | Price per week | Price per 2 weeks | Distance | Rating |
| --- | --- | --- | --- | --- |
| Cophall Parking | £29.25 | £50.75 | 10 mins | 9.1 |
| APH Parking | £37.92 | £59.92 | 12 mins | 9.3 |
| Cambridge Hotel | £43.00 | £67.00 | 6 mins | 8.5 |
| *Official Long Stay | £77.00 | £109.00 | 12 mins | N/A |
*It is not possible to book this product on Parkhero.
The prices above give you an idea of the sort of prices you can expect when you book 3 to 6 months in advance with Parkhero. They are based on bookings made for March 2021 made 6 months in advance. For a more accurate view of the prices you can expect, begin your search in the comparison tool at the top of the page or carry on reading for a better idea of our best value Park and Ride Gatwick services.
Overview of Park and Ride Services at Gatwick

Cophall Parking
If you are looking for a reliable and efficient Park and Ride service, then Cophall Parking is fantastic choice. This family-run business is highly rated on Parkhero at 9.1 out of 10 with its friendly and professional staff providing a stellar service 24/7 all year round. The car park is located just a short 10-minute transfer from both terminals and the shuttles run on-demand to limit your waiting around.
APH Park and Ride
APH Gatwick Park and Ride is one of the biggest and longest running car parks at the airport. It is a national company and offers a professional Park and Ride service that is the best rated on our site at 9.3 out of 10. Shuttles at APH run every 10 minutes around the clock and take between 10 and 12 minutes to reach both terminals.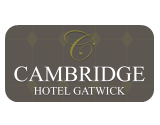 Cambridge Hotel
Cambridge Hotel is located less than 3 miles from the airport and on average offers one of the cheapest Park and Ride services at London Gatwick. This convenient service allows you to make use of the hotel lobby and restaurant if you wish with free Wi-Fi, comfortable seating and toilets. Buses at the hotel run on-demand and take around 6 minutes to reach the airport. Please note that there is a £3 fee per person return for use of the shuttle.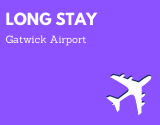 Official Long Stay
Operated by Gatwick Airport, the official Long Stay service is located on the airport terrain. It is a self-park service, where you can park your car yourself and keep your car key, before hopping on the shuttle bus. Buses run every 10 to 12 minutes and take between 7 and 10 minutes to reach the terminals. It is often one of the more expensive Park and Ride options, at more than double the price of the cheapest option available in the table above. Unfortunately, it is not possible to book this service on Parkhero.